sara k.
Frank Goodman's Puremusic review of "Water Falls" . Sara's bio follows.....

I've been watching this artist a few years. I was interested in a couple of recordings I'd run into on the Chesky label, because of the style she was playing. I'm kind of amazed by the relatively tiny number of jazzy singer songwriters out there, when so many play folk, blues, or country. It's actually a tricky area for those of us that do like to write and play jazzier material. Sometimes it's not folky enough for the folk crowd, and it's not usually jazz to the jazz crowd. Of course, if it's jazzy pop, that's okay--Sade, Rickie Lee, Norah Jones. (That's right, they all happen to be beautiful women--some would call that a pop prerequisite. Sara K. is a very winsome person as well, for the record.) But lately I hear a few more records in this sub-genre (call it folk jazz) and believe that we need more of it, and it seems to be finding an audience. Erika Luckett is a fine artist in this category, and I hear Louise Taylor's new CD will also be on the jazzy side.

But let's talk about the free spirited and very gifted Sara K. She's brave, goes where she wants to go, and she takes you with her. That takes conviction, that seduction. Her lyrics are very unique to my ears, emotional and imagistic woman truth that goes down smoothly but is powerful medicine. She's been in Santa Fe for a long time, and there's so much of that environment in her sound. Sara plays a four string guitar. The guitar she got from her sister as a young dreamer only had four; and so a style began, reality rather than necessity the mother of invention. From the artist:

"I've been playing the four-string since around 1972. Taught myself on a busted guitar that was tuned backwards. Now I have 3 variations. Am having one custom made in Germany right now. The bridge will have 2 sets of grooves--one for nylon, the other for Elixirs (sort of like brass wound). It's tuned to an open A. The register is somewhere between bass and baritone. Mostly, it's about having an instrument that simplifies the chord patterns and structures. At the beginning, I just needed something to write on and sing with. But, over all this time, it's become a part of my sound. And soul."

You can hear this unusual and beautiful approach to the guitar on "Destination" on the Listen page. Throughout Water Falls, Sara K is accompanied by stellar musicians, including the amazing Chris Jones on guitars, who tours with her. Martin Huch's hollow neck dobro is also exemplary. Guenter Pauler's Stockfisch Records is a fascinating outfit that we've been aware of for some years. Check out their website, we'll be covering more of their releases. We like this record very much, and wish Sara K. well. • FG
sara k.
long story put short...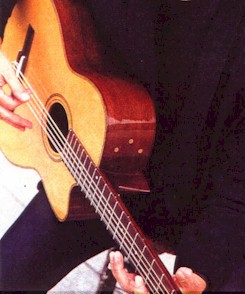 It's rather mysterious as to how things have turned out for me. I was a kid in Texas sitting on a fire hydrant watching the cars go by in 1963. Up to that point life was mostly about canned laughter on t.v. and watching the cars go by. I wanted to be a singer. Nobody took it all too serious. Music was something you did for a hobby. And sang in church or long car rides.
My dad had a deep bass voice. He died of a self-inflicted wound in 1964, just when we had moved across town. My mom went to work but still sang in the choir. My sister and brother and I were raised in the same neighborhood throughout all of our schooling. My brother played guitar in a 'combo'. I rode my bike everywhere that I could. Then I got a car.
My sister left a guitar behind that was missing some strings and I needed something to sing with. That's where the 4 string guitar technique comes from. All in all, there wasn't much encouragement coming from home and I needed to find out what was going on. I graduated and moved out.
The next couple of years were spent playing out for who'd ever listen. I made my way into some 'happy hours' and doing back-up vocals for studios. Made demo tapes. And hung around lots of music and musicians. My sound was more folk than disco and more jazz than country. It didn't fit the scene in Dallas at the time. So I moved to New Mexico.
Ruidoso was a small mountain town in the late 70's and we all had some discovering to do. I was in a duo and a band and still making demo tapes in Dallas. I took reel to reel tapes to L.A. and did most of the things a player will do when everything seems possible. I moved around a lot for nearly fifteen years. Some friends of mine let me use their mailing address and there was always a spare bed there for me. Most of the songs on "Gypsy Alley" come from those days. There are some demos floating around but it wasn't until I stopped for awhile in Santa Fe that the decision to record 'something I could sell off-stage' came to be a reality.
I was playing regularly at El Farol and rented a place on Gypsy Alley there. I won a goldfish at the fair and had to take care of it. I got a dog. Eric Larson owned a studio in Albuquerque and offered me a recording deal with him as the producer. We recorded at night when the studio wasn't booked. The recordings took around 9 months to complete and package. It took some 6 more months to get an offer from a California label. Then, another year for nothing to happen fortune or fame wise.
Bruce Dunlap, an amazing guitarist, turned me onto Chesky Records out of New York. I was still playing the local bars and whatever else I could do musically to pay the rent. It took almost a year for me to sign with Chesky. I had never heard of Audiophile. Or recording direct to disc. But, standing on the streets of New York, looking up and down at all the action was pretty exciting. So was BMG studios. So, I let the dream kick in again.
Now it is the beginning of the 90's, whatever that was. I'm moving around a lot again, starting to tour Europe more, writing and recording more and missing my dog. I thought it might be best to move to a bigger city and packed up for San Francisco. First I'd go east and make a mini-tour of Texas and play a few places before heading further west. Never made it further west though.
Seana was born January 13th, 1994. I moved back to New Mexico to raise her and stay afloat musically. We lived at the foot of the mountain in Ruidoso. Three cds were written, recorded and toured during our years there.
In 1998, when she went to live with her father in Texas, I moved back to Santa Fe. That's another long story put short. But, in truth as well as fiction, life does go on. We lost Peter,Jeffrey and Robo that year. Overdose, chili truck and sky-diving. I was still trying to figure out this playing in bars. I needed something good to happen.
Some good surprises were coming my way. Even though not having Seana with me was producing emotional levels that I don't care to remember, the new abundance of space was soon to be filled. Soon, of course, meaning half a decade later.
The next and final 2 cds completed my contract obligations with Chesky. Something was telling me that I'd been ripped off in many directions by labels and touring companies. Maybe it was the fact that I was not making any money even though the cds were selling. I was touring the last one in Germany when Guenter Pauler, who was working sound for the concert, invited me to see his studio. Fortunately, I had the next day off. I was imagining a nice home studio with dats and reverb. Needless to say, Stockfisch is much more than that. At the end of our visit, Guenter said he'd like to record me. I said I'd like that and would think about it. I had almost come to a point of resolve in thinking there was more to life than signing well-worded-for-the-label contracts. So, I get home and he sends me a live recording from our concert there with Chris Jones adding some very tasteful guitar parts. And a one pager. A one page contract. Unheard of.
In September I signed with Stockfisch for the cd 'Water Falls'.October I married Tiego inScotland. November we started the'multitrack' recordings with Chris Jones. B&W Speakers will be sponsoring our tour in May of this year. At least for now, I'm not scheduled to play any bars. I keep looking over my shoulder but am grateful for the good surprise. Thanks to all and to all a great journey or two …..
Sara K.